New ADD/ADHD Support Technology
I recently spoke with Rich Schramm, developer of a remarkable new technology for families with kids who need help focusing and completing tasks. Called I Got This, it's a virtual "personal assistant" that uses a smartphone to help a child remember to do tasks and get them done. It has a dashboard for parents to set up tasks, customize incentives, and track progress. The program does the rest, so parents don't have to constantly nag their kids.
Rich grew up with ADD/ADHD issues and says he still has to consciously manage his focus. He also has three children who deal with ADD/ADHD. As a software engineer with over 25 years experience, he decided to make a user-friendly app to help young people harness their exceptional mental capabilities to get things done. He points to many accomplished individuals who figured out ways to do this on their own and go on to accomplish great things, such as Isaac Newton, Thomas Edison, Albert Einstein, Richard Branson and Bill Gates.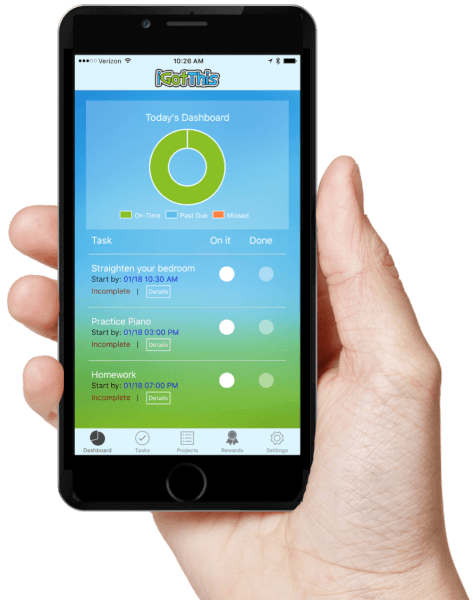 Schramm's mobile app makes it easy for a kid to perform several executive function tasks, such as focusing, planning and managing projects. The benefits of this support are huge. When a young person "drops the ball" enough times, it can have a serious impact on self-esteem. Going from daily failures to a track record of successes builds self-esteem and self-confidence.
Because I Got This is in the pre-launch phase of development, adults who deal with kids' ADD/ADHD issues (parents, educators, therapists, and counselors) have an opportunity to try the system early and take advantage of significant benefits. For example, I Got This has a crowd-funding initiative in which people pre-purchase a deeply discounted trial subscription ($3.50/month per user), instead of simply making a donation. Schramm is doing this to help fund development and get user feedback, while adults get familiar with and use the system with kids.
If you deal with ADD/ADHD kids in your life or work, or if your kids just seem to have trouble staying focused, this new technology is worth a try.
Go to IGotThis.com, You'll be glad you did. It's an amazing system. Registrations are now open for a FREE family beta-test account to get your feedback.